Flaxseed oil tastes better when it is fresh.
Anyone who already takes Flaxseed oil everyday will be able to tell you that it may be healthy, but some brands don't taste very nice. The key to it tasting better is the freshness. This is why NZ botanical Flaxseed Oil is pressed in small batches, so it when it reaches you, it is not already months old.
This means that you can store it in your fridge and will remain tasting fresh for up to 3 months.
The way that the oil is packaged can effect the taste
For convenience and ease, most oils are now packaged in plastic bottles. However  the plastic can affect the way the oil tastes after a short time. It can only provide the oil with a limited shelf life and consequently the taste as it starts to degrade very quickly.
NZ Botanicals Flaxseed oil is packaged in dark glass bottles, that allow the flavour of the oil to stay fresher for longer and reduces degradation of the oil, and eliminate any potential risk of plastic toxins leaching over time.
Flaxseed oil will also stay fresher away from direct sunlight and maintain in your fridge for longer.
Flaxseed oil can be affected by the air we breathe
NZ Botanicals natural Flaxseed oil is manufactured and bottled with nitrogen gas to prevent the oil from being in contact with air until you open the bottle. If you take the correct dosage, the small amount of air that enters the bottle when you pour the oil out should not effect the oil before you use it up.
If you want to include Flaxseed oil in your diet, but swallowing  a couple of spoonfuls a day does not appeal, then don't despair!
This oil is a cold pressed oil and whilst you cannot heat it, you can make great low fat salad dressings, marinades, pesto's, dips, spreads or add  to yogurt or breakfast cereal.
NZ Botanicals Flaxseed oil is versatile, light, sugar free, low in salt and packed with goodnesss that our bodies deserve. Most importantly  it is 100% natural.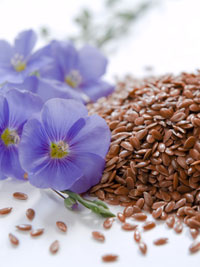 Flax (Linum usitatissimum) is also known as Linseed.
It is native to the regions from eastern Mediterranean through to India. Flax was extensively cultivated in ancient Ethiopia and ancient Egypt.
Flax seeds contain high levels of lignans and Omega 3, 6 and 9 fatty acids.